As Georgia Tech students and parents plan for their student's arrival at Georgia Tech , where they will be living is certainly a serious consideration. While on-campus housing and off-campus apartments are options, there is another option for Georgia Tech parents to consider where their student will live. How about making an investment in Georgia Tech Condo Housing.
Georgia Tech Condo Housing
No, Georgia Tech does not have condominiums on campus. But, as parents consider living options for their son or daughter, they might consider a real estate investment and purchase a condo for them to live in while attending school. This could also be a future home for the student with the FHA Kiddie Condo Loan, or maybe even a second home for the parents once their student leaves school.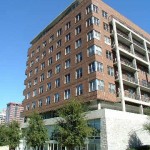 In my first post, we talked about Cornerstone Village, located at 5th and Peachtree Streets. Now, let's take a look at Mid City Lofts, THE closest condominium building to the Georgia Tech campus.
Location is key in this Georgia Tech Condo Housing option. Located just across Spring Street from Technology Square, Mid City Lofts is an exceptional building. Offering 24 hour Concierge and secured lobby entrance, this building offers the parent "peach of mind" with a short walk to campus and added security.
Mid City Lofts offers a variety of 1 and 2 bedroom floor plans. This Midtown Atlanta condominium community will be on the higher priced end of your off campus housing options, but the building has some impressive amenities. The community recently renovated all the hallways and elevator foyers on each floor. Then, they took to the Sky Lounge, located on top of the building. The result is a roof-top oasis perfect for relaxing or reading a novel for that report due by next week!2 bedroom homes might also require some slight modifications to make a bedroom more private for the room-mate situation, but that is certainly possible.

Mid City Lofts is JUST across the street from Technology Square, as indicated by the Blue Buildings!
This building is also a short two-block walk from the Publix Market, located at Plaza Midtown, making grocery shopping easy for your student. An Office Depot is just across the street for college supplies. On the opposite side of the building, on West Peachtree, is the Mid City Cafe, a great place to meet both family and friends before a Georgia Tech home football game!
As you consider your Georgia Tech Condo Housing options, why not give me a call to discuss all your Midtown Atlanta options! I'll be happy to tell you all about what each community has to offer.