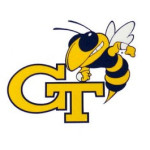 Last week, we just closed on another Midtown Atlanta condo for Georgia Tech Parents that chose Georgia Tech Off Campus Housing for their GATech student. We realize that every family and every budget is different. You may be able to spend more for the newer, modern high rises that are within walking distance to Technology Square and the rest of the campus. But some parents ask us, "Are there good investments that we can still make and not spend a fortune?"   Yes there is.
Georgia Tech Off Campus Housing |Can We Still Buy A Midtown Atlanta Condo?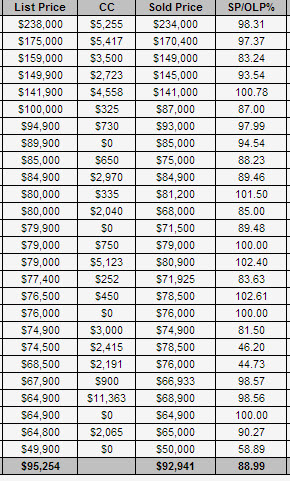 The answer to that question is a guarded "yes."
An example of a Midtown Atlanta condominium community that is close to GATech and still affordable is Cornerstone Village. This community is comprised of 4 buildings, two which are historic and two that are newer construction. Most Georgia Tech parents desire to purchase a two bedroom so that their son or daughter can have a room mate who in turn helps make your mortgage payment.  As of this post writing, there is only ONE 2-bedroom listed in the building!
But let's back up a bit and look at the sales history in the building so you can see where we were, and where we are headed!
Cornerstone Village took a hard hit in the real estate slide of 2009-2011. There were many foreclosures, but despite those, the homeowners association has remained strong, and kept the community financially stable. But from 2011 and forward, the prices have risen dramatically at Cornerstone Village, especially in the 1 bedroom homes. The chart to the left, shows the sale for 2011 in the building.  Yes, you could of bought a condo in Midtown Atlanta for $50,000-60,000!!!
But now, fast forward to 2013. Times have changed indeed. A smaller (635 sq. ft) home just closed for $124,000!! How's THAT for a return on your investment! Below, the chart on the left shows the current Active Listings, Under Contract and Short Sales that are Under Contract. The chart on the right shows the homes sold so far in 2013.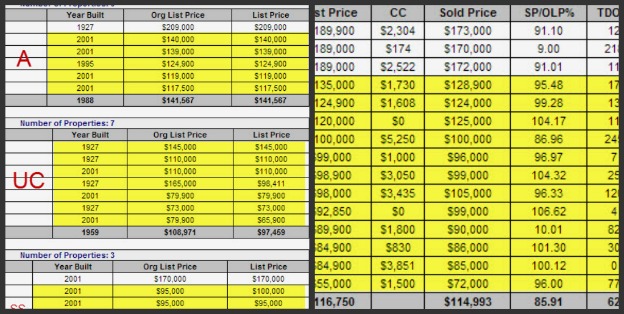 The Question: "Can We Still Buy A Midtown Atlanta Condo?"  And the guarded "yes" answer…prices have risen dramatically and this could continue, or start to slow down significantly with the rise in interest rates. There certainly is limited inventory, which could help to keep the prices moving upwards.
Either way, now is the time to make your decision about Georgia Tech Off Campus housing. I'm also often asked about leasing the condo out. Currently the building does not have any leasing permits available, and the wait list is probably around 4+ years before you would clear it and obtain a leasing permit. That said, if you did purchase now, have your son/daughter attend school for 4 years (or take the 6 year plan like I did!) you very well may, I repeat may clear the leasing permit list. I can tell you from a rental standpoint, that Cornerstone Village is an easy building to rent! One bedrooms rent for $1100-1200 and two bedroom comand $1600 and up, depending on the floor plan.
Georgia Tech Parents and Off Campus Housing. YES, you can still buy a Midtown Atlanta condo at Cornerstone Village!! If you are looking to make a Midtown Atlanta condo purchase, or need more information about the Georgia Tech Off Campus Housing options available, please complete the form below and we will be in contact with you!