gloATL Presents ROEM July 23-24 at Woodruff Arts Center – Midtown Atlanta GA
There is a reason that Midtown Atlanta GA is called the "heart of the arts." With the Woodruff Arts Center, High Museum, soon to arrive Museum of Modern Design, the Fabulous Fox Theatre and a couple other small playhouses, there is always something exciting to see and do!
And tonight and tomorrow night are certainly no exception with gloATL's presentation, ROEM. I'll be there to check it out, and with any luck, capture a few photos!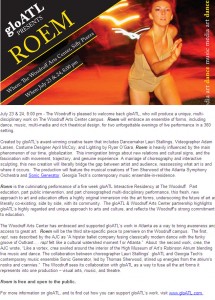 For more information about the event, click on the picture above to read the text and information about the event!