GM Celebrates 75 Years of the Suburban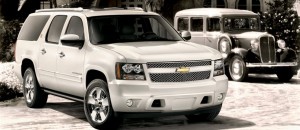 Ok. I'll be the first to admit it. Huge. Gas Hog. Over the top? Probably all of these, but if money was no object, it would probably be one of the first things I would buy. Either that or order my custom Prevost Motor Coach. Neither of which has a very small carbon footprint. Oh well.
The Chevrolet Suburban is the longest continuously produced vehicle in America. It first started production in 1934 and as you can see from the picture, compliments of the Chevrolet Suburban website, "she's come a long way baby!" They have also become the vehicle of choice for families, Secret Service and ranchers. In fact, my Dad had on older version of the Suburban…I often nicknamed it the State Vehicle of Montana….EVERYONE seemed to have one!
On Monday, GM also debuted the new 75th Anniversary Diamond Edition Suburban, which will be available this summer. Only 2,750 will be made. While a Suburban is probably NOT a collector car, I bet a few of them will get snapped up and tucked away for a future Barrett-Jackson auction.
In Midtown Atlanta, the Suburban is often seen in use by limo companies instead of a Lincoln Town Car or Cadillac. But for showing condominium homes, they can be a squeeze to get into some places.
Guess I'll stick with my little guy for now! Happy Birthday Chevy Suburban! You look darn good for 75!!