Gordon Biersch Midtown Scores Great Review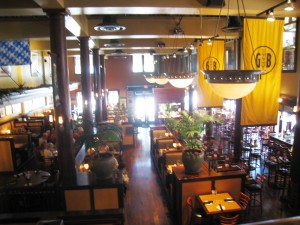 It was no surprise to me when a review of my favorite Midtown Atlanta watering hole/restaurant, Gordon Biersch showed up on a Google Alert today. Of course it was favorable…..Gordon Biersch Midtown IS a great restaurant!
One of several posts I have written about Gordon Biersch appeared in September, 2009 on my other blog, Midtown,My Town, Atlanta and MORE My good friend, Elizabeth from Huntsville, AL was in Atlanta and we had a delightful evening of food and conversation!
If you are in Midtown Atlanta, and looking for exactly what you want in a restaurant — a great dining experience, good food, great beer, and excellent service….look no further!
Here is a link to the Atlanta Food Critic's review