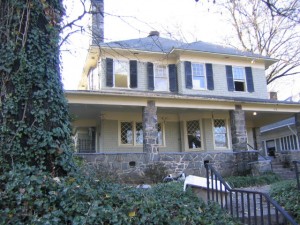 The residential area of Historic Midtown Atlanta was listed in the National Register of Historic Places on February 12, 1999 as the Midtown Historic District. It's boundaries are primarily 10th Street, Ponce de Leon Avenue, Piedmont Avenue and Lakeview Avenue. Initially, three different areas of Midtown existed, separated by time of major construction, style of building and economic level of the residents. Richard Peters' Midtown followed a regular pattern of development. It was conceived as a white, upper class neighborhood and Peters priced his lots, especially on Piedmont, to attract those people. On the east end, another similar section of Midtown (located between Monroe Drive and Lakeview Avenue) was develope concurrently. The part of Midtown Atlanta in between these two areas consisted of many small parcels. Each developer imposed his own scheme. Other neighborhoods, such as Ansley Park and Druid Hills,which were developed around the same time, were more orderly in their layout. In the 1910-1920 period development was piecemeal, going from "opening up" to "filling in." As the area expanded, more middle class housing was developed, including apartments. Commercial nodes and a few institutional buildings (churches and schools) also appeared.
Post World War II history was dicey for awhile, like many in-town neighborhoods. Its downturn began during World Ware II when the government bought up houses and turned them into multiple units to house war workers. After the war, the suburban movement began. Midtown was part of the area populated by hippies during that era. Many houses were converted to commercial use and many were owned by absentee landlords. Physical deterioration rapidly set in, which did not help real estate values either, and during that period real estate agents could not sell anything in the area – regardless of price. (Times HAVE changed a bit!) Banks redlined possible purchases.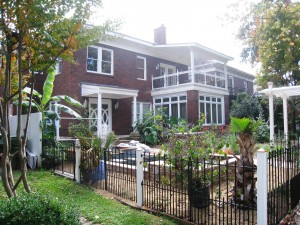 The area did not even have a name. For a little while it was called Uptown, but this name never caught on. It had even been rumored that the area would be leveled for parking for nearby commercial districts. That rumor helped fuel the development of the Midtown Neighbors' Association and for the first Midtown Tour of Homes in 1971. By then, a few gay couples had moved in and had begun to renovate some of the homes and they were followed by other urban pioneers.
N0w the neighborhood is politically sophisticated, economically viable and strong enough to fight off any commercial development. The Midtown Alliance and the Midtown Improvement District have aided in keeping the development in the Peachtree and West Peachtree Street corridors.
Historic Midtown Atlanta is an excellent example of a historic residential area.
Current Homes Available for Sale In Historic Midtown Atlanta
We're sorry, but it seems that we're having some problems loading properties from our database. Please check back soon.