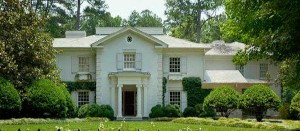 She was a beauty! But I guess she has some pretty proud new owners!
As reported in the AJC, and according the the FMLS Sold Report, the home sold for about $3.8 million. The listing showed an original list price of $4.9 million. And as the AJC story says, Blank paid about that for the home when he purchased it in 1993 for $3.3 million.
I'm going to guess the original description on the listing service was scaled back…as it is pretty lackluster for a multi-million dollar home.
I might add that Mr. Blank is building an impressive home (we don't call them mansions in Montana) south of Livingston, Montana in Paradise Valley. Mr. Blank also purchased a neighborhood drive-in restaurant, called The Pop Stand,  because he liked the food. (Be sure to click on the link…that is one amazing website for a little drive-in restaurant in Montana!)
This picture is courtesy of Dorsey Alston REALTORS that had the home listed.