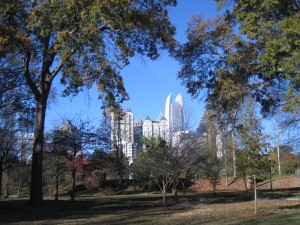 If you are considering a move to Atlanta, you'd probably want to know how she compares to other cities, right? Maybe you have a choice of jobs in say San Francisco or Atlanta. Well, how much will get, or how far will your money go in the Peach City known as Atlanta?
Atlanta offers are many! Our close proximity to the North Georgia mountains offers countless recreation opportunities, not to mention a lush, scenic landscape that is carried right through Atlanta. In fact, many people comment on our tree coverage when flying into the city. Atlanta is blessed with several  major lakes. Closer in to the North, you'll find Lake Allatoona and Lake Lanier. About an hour east of Atlanta you'll find the combo of Lake Oconee and Lake Sinclair and to the South, perhaps the lesser known Jackson Lake.
Diverse cultural offerings range from world-class museums to Civil War battlefields and historic mansions. Many of these are tucked in close-in Atlanta neighborhoods like Buckhead or Decatur, or in suburbs like Kennesaw.
And then there is Southern Hospitality. Warm smiling faces and that occasional Southern drawl!
How Atlanta Compares to…?
If you were moving to Atlanta with a $50,000 annual salary, how would that salary compare to other U.S. cities?
$113,305 in New York City
$84,251 in San Francisco
$71,673 in Washington, D.C.
$64,085 in Seattle
$61,486 in Chicago
When it comes to living in Atlanta, almost every expense is well below the national norm. The data below shows relative price levels for consumer goods and services you would need. The average composite index for the U.S. is 100%, and each city's index is read as a percentage of the overall average.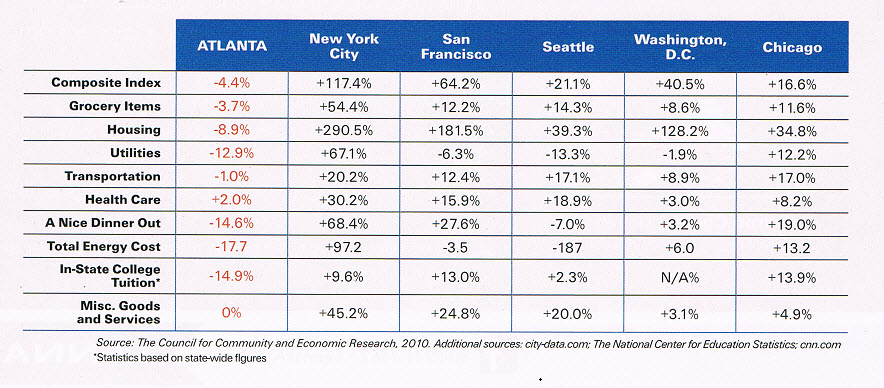 Of course, these are averages, and lifestyle and where you live in Atlanta can certainly impact any of these. If you live in an outlying suburb and have a longer commute, you may have lower housing costs but higher transportation costs.
Life is Good In Atlanta!