Maybe the better question is how we will NOT market your home for sale!!!
As a real estate broker, I'm constantly looking at listings. Multiple times a day. So I see how YOUR home or condominium is being marketed. Because first, and foremost, is the marketing that we place in the Multiple Listing Service. Because from this ONE location….your listing goes almost everywhere….like this…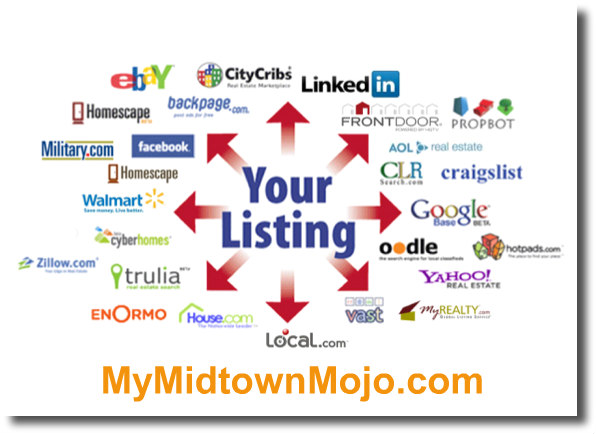 And very most likely…the FIRST place anyone is going to see your home IS on a real estate website from the list above. Calls to mind the saying, "First Impressions….." So, just imagine you have listed your home or condominium For Sale. You've most likely hired your real estate professional based on a referral from a friend or family member, or you have have searched online and found them. Hopefully you saw their marketing as part of a listing presentation. And you were given some examples of how they would be marketing your home. Right?
What Does the Description in the MLS have to do with Marketing my home?
Well…kinda, sort of….everything! What we as agents enter into the Public remarks field is what will show up to not only other real estate agents but to anyone and everyone searching online. When they find your listing, be it here at MyMidtownMojo, or on any other brokerage site, or even Zillow or Trulia…what they see will be a result of what the real estate agent put in the Public Remarks field.
So imagine this is YOUR home or condominium and this is what I (or anyone else) sees about your home:

Yep. See those public remarks. Or lack thereof? That is how this particular home is being marketed…and it has BEEN on the MLS like this for almost THREE WEEKS!!!
How Would You Like YOUR Home Marketing to Look?
Imagine the same part of the MLS description above looking like this?

Notice here there is a complete description of the condo! The location, features, amenities what's unique about it. A special mention about what the HOA fee includes. And further, there is "private" remarks that only agents can see in the MLS that may can have further details or showing instructions. (NOTE: we are limited on how much we can put in the Public Remarks, and may pass on other details in Private remarks to help "sell" an agent on showing your home.
Which description do you think will better help sell this condo?
Marketing and The Internet
I tell my clients that your home may be shown multiple times during the listing period, but it will be SEEN thousands of times on hundreds, or thousands of websites. And on those websites, will appear those Public Remarks.
In fact, we consider this part of marketing your home SO important, that we have the description ready, along with the photos so that all of these parts of your listing are completed at the same time….and when your listing goes "live" in the MLS, there are photos, and a description and all the necessary information that should be there. Not this, "oh we'll get it in the MLS and upload the photos on Monday when we get them." No way!
Your marketing should be First Class…and it will start that way with a complete listing appearing in the MLS.
After all, how would you want YOUR home marketing to look?