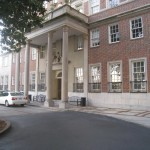 Day before yesterday, I had the opportunity to show a rental condominium in the Biltmore House Condominiums. Originally built as the Atlanta Biltmore Hotel in 1924, the building is now divided into the condominiums on one end, and the remainder of the building is office space.
I looked into the one original ballroom…..I could almost see the dresses of the 20's and 30's in that room! So unique with the levels and the lighting and the ceiling!
But back to my original reason for being at the Biltmore House Condominiums…was to show this 2-bedroom, THREE story unit on the top floor. It's so unique, it was a bit hard to capture in pictures, but the listing information below does have numerous photos. But, how would you like this for a view out your Penthouse Master bedroom?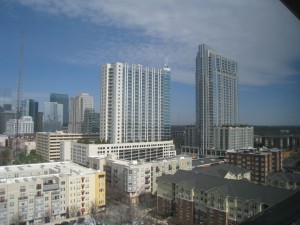 This home is available now for immediate lease. Placing furniture would be a REAL challenge due to the upper levels being accessed by a circular staircase…so the owner will leave any and all furntiure in the home, including a complete master bedroom suite and flat screen tv. ALL THAT for $1800 per month in Midtown Atlanta?  CALL ME TODAY!
%%ds_Details|{"SearchSetupID":"30","query.MlsNumber":"4314461","query.SearchSetupID":"30","requester.AccountID":"11305","requester.ApplicationProfile":"WordPressIdxModule","requester.ApplicationVersion":"6.0.3","requester.ClientIpAddress":"52.167.144.91","requester.ClientUserAgent":"Mozilla\/5.0 AppleWebKit\/537.36 (KHTML, like Gecko; compatible; bingbot\/2.0; +http:\/\/www.bing.com\/bingbot.htm) Chrome\/103.0.5060.134 Safari\/537.36","requester.PaginationUseActivationPath":"true","requester.PluginVersion":"3.17.0","requester.RequesterUri":"https:\/\/www.mymidtownmojo.com","requester.SearchSetupID":"30","requester.UtcRequestDate":"2023-03-21T13:31:45+00:00","responseDirective.ShowAdditionalDetails":"true","responseDirective.ShowFeatures":"true","responseDirective.ShowLocation":"true","responseDirective.ShowPriceHistory":"true","responseDirective.ShowSchools":"true","responseDirective.ViewNameSuffix":"shortcode","requester.Signature":"9adf7b1c0181df4a016e2b9e8475c5d2ee66a714"}|ds_end%%