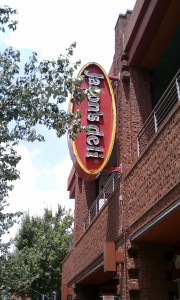 If you are like me, you can get "stuck in a rut" when it comes to choosing a place to eat. I always find myself back at my old favorites, instead of venturing out and trying something new. (Note to self…Work on that!)
With a fridge in my office, I've usually got leftover or something to eat. But, the other day I found myself on the streets of Midtown Atlanta….starving. This time, I did NOT fall back on the old favorites, but tried someplace I had at least NOT been in a long time….Jason's Deli Midtown Atlanta.
Yes, I know. Jason's Deli Midtown Atlanta is a chain restaurant. Hey, who says a chain restaurant can't get it right. Jason's Deli certainly does. I decided to grab my lunch to go so I could get back to the office and tend to business. (a.k.a. working lunch) Now, what am I going to have.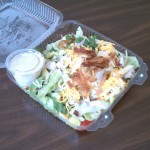 After some decision I went for their New Chicken Club Salad! Yum! Crisp salad greens were topped with grape tomatoes, sliced avocado, cheddar cheese and strips of bacon. Don't forget the grilled chicken breast! Top it off with a side of ranch dressing and I'm all set. Now, when I first sat down at my desk, I was like…ok, we have lunch AND dinner taken care of. But the salad was so tasty; I finished the WHOLE thing for lunch.
You can dine in, or take-out at Jason's Deli Midtown Atlanta. And while you are waiting for your takeout, you even get a free ice cream cone. AWESOME! They have a great salad bar if you choose to eat-in, and they also do catering for your office or home party!
Jason's Deli Midtown Atlanta is located on 10th and Piedmont, just across from Blake's and G's Restaurant.
I so will be back for lunch real soon.