If you are relocating to the Atlanta area to work at the new Pinewood Studios Atlanta, you are going to find numerous choices in location and price when it comes to real estate. You may choose to live closer to the studio to minimize your commute time, or you may decide to opt for the urban feel of Midtown Atlanta. Our goal is to show you the variety of homes, townhomes and condominium living options that will be available to you. Today, let's look at some homes for sale that are foreclosures.
Living Near Pinewood Studios Atlanta | Fayette County Foreclosure Homes For Sale
First off, we are only showing three homes here…there are many, many more options available. We happened to select foreclosed homes since they were the easiest to get access to. (Note: most of the listings we looked at via FMLS (First Multiple Listing Service) required appointments and were occupied homes.)
In this post, we are featuring 3 homes that ranged in price from $350,000-$425,000.
As a disclaimer, these homes are listed by other real estate brokers. The photos shown here were taken by us, not copied from the MLS.
222 Palette Lane, Peachtree City, GA 30269  $354,900 FMLS 5222024 Property Taxes: $3430
Conveniently located just west the intersection of Highway 74 and 54 ("Downtown Peachtree City") on Highway 54. Planterra Ridge Subdivision features a community pool, tennis courts and playground. This particular home really caught me off guard, based on the price. There were no upgrades of any sort (granite, stainless steel, etc) and the existing hardwoods may need a refinish. Other homes in the neighborhood are listed at this price range, or higher, but have the aforementioned upgrades. I think we'd need some negotiation on the price.  Listing provided by Providence REOS Realty FMLS#5222024.

311 Harp Road,  Fayetteville, GA 30215  $374,900  FMLS#5202589  Property Taxes: $4797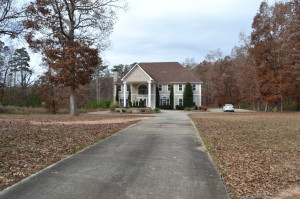 This home has the word "potential" all over it! WOW! Talk about some house for the money! Located South of Downtown Fayetteville, this home sits on SIX, yes, SIX acres! The listing says "renovated and move-in ready" but I'd say she needs some work.
At the front entrance, a probably once awesome fountain will need some attention. I say a great fish pond! And as the picture from Harp Road shows, there is almost no landscaping around the home to really set it off….and the driveway is cracked in numerous places.
I missed a picture of the main floor kitchen which was probably ok, but had a tiny, tiny kitchen island. A tour of the home found some mold in the main floor bedroom bath (on the ceiling) so, I'd not call it move in ready.
The bedrooms were all HUGE, so perfect for a family or have several room-mates, each with their own suite! With a total of 7 bedrooms….The lower level even has a separate full kitchen so you might have leasing possibilities here. (You'd have to check local zoning, but being on 6 acres, I'm sure you could rent out the lower floor.) But it would make a great recreation room, opening out to the in-ground pool. As the photo clearly shows, the pool will need some work as well, a new liner for sure, and one can only guess as to the condition of the pool pump and equipment. But very private, and not at all visible from the main road! Re-do the pool decking area, new landscaping…and it will be just like Hollywood…without the neighbors and LOTS of privacy!
The Master Suite upstairs has two different kinds of marble between the shower and the jetted-tub, and rather dated mirrors/cabinets.  But again, huge bedrooms!
This would be a perfect home for a 203k renovation loan, although they can be challenging to work out. Some negotiation on the price on this home, and a check of comparables in the area, and you could have one amazing showplace when you were done. Rough guess…probably needs $250,000, maybe more if you figure in the missing landscape and fencing it needs.
Listing Provided by Gloria A Watson Realty.

195 Rebecca Court, Fayetteville, GA 30215  $424,900  FMLS#5199784  Property Taxes: $4246
This 4-sided brick home is located at the back of the Rebecca Lakes subdivision, and while you have neighbors on both sides, it's semi-private. Overlooking the lake is what makes this home unique. The large deck will probably soon need some work, but offers a great place for unwinding after a long day at the studio, or, when you have that rare day off to relax!
When we viewed this home, there were installing all new carpet in all the rooms. Not a high end type, but nice enough. The home has 4 bedrooms, 5.5 baths and a unique two-story living room with stacked stone fireplace. The kitchen could use a remodel to more modern cabinets, granite and stainless steel and it would be stunning!
The daylight basement has a rec room, additional storage and the bar…but would best be cleared out and really done right.
Listing provided by Gloria A Watson Realty.

As you can see…there is a lot of house for the money if you decide that Living Near Pinewood Studios Atlanta is the choice for you! Learn more about Living Near Pinewood Studios HERE and also "Like" our Facebook page, Living Near Pinewood Studios Atlanta.