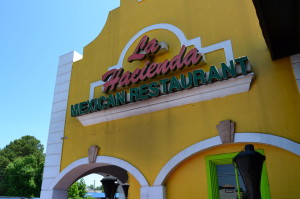 Living Near Pinewood Studios Atlanta | La Hacienda Mexican Restaurant Fayetteville GA
Where: 365 Fayetteville Place, Fayetteville, GA 30214 770/460-2999
Hours: Daily 11:00am – 10:00pm
What: Restaurant in Downtown Fayetteville, close to Studio location
Cost: Reasonable Entrees from $5
Mexican Restaurant in Downtown Fayetteville
As I work to develop information for people relocating to the Atlanta area to work with/for Pinewood Studios Atlanta, I'm making a point to try various restaurants in the area, and share a personal review of my experience. All these reviews will be found on our main page, Living Near Pinewood Studios Atlanta.
So, on my first trip to Fayette County, when it was time for lunch I was in one of those "give me food or else" modes, and when I saw La Hacienda, I said we're going here. So we did. Well…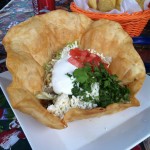 The patio dining was certainly enjoyable as it was not hot outside and a slight breeze was in the air. The decor of the restaurant was pretty authentic Mexican looking, and I LOVED the table clothes. But it pretty much goes downhill from there.
I ordered the Taco Salad (Only $5 at lunch) and it was bland at best. Now I'm not a lover of spicy foods, but the ground beef in the salad  had no flavor whatsoever! The taco shell was crunchy, but that sums up most of  the meal.
I've been recommended to another Mexican option in the area, and I'm hoping it will be worthy.