One of the many reasons people like to live in urban areas is the ease of getting around. And the first choice is to ditch the car in your parking garage and walk! Midtown Atlanta is one of those urban areas!
MARTA and Midtown Atlanta

As the retail shopping experience expands, Midtown Atlanta shoppers have more options. But, truth of the matter is, there are no stores like Target, Macy's, Apple, The Gap or Abercrombie and Fitch. (We do keep our fingers crossed to see such names in the future!) So, how can you GET to these kinds of stores, and still ditch the car? You might consider MARTA in Midtown Atlanta!
MARTA (Metropolitan Atlanta Rapid Transit Authority) operates the bus and the rail system you find in Atlanta. I'll focus on the use of the MARTA train here. Midtown Atlanta is serviced by two of the four MARTA lines, the Red and Gold Lines. And we are also fortunate to have 3 stations that service the area, North Avenue, Midtown and Arts Center. Here is a System Map of the MARTA rail line: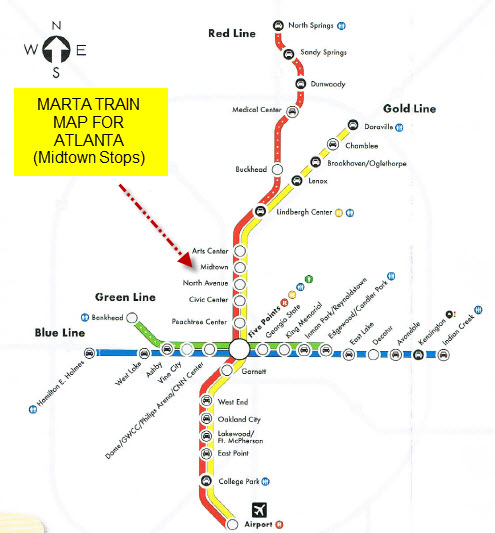 There are two commercial areas for shopping for Midtown Atlanta residents. The closest is Atlantic Station, which features Dillard's, H & M and other stores such as West Elm and several restaurants. If you live on the Peachtree Street corridor, you could walk to the Arts Center Station where Atlantic Station provides a free shuttle. The "true urban" thing to do would be catch MARTA at Midtown, exit at Arts Center and catch the bus. Sadly, it's about as much trouble as it sounds…and most WILL bring the car out of the parking garage for these kinds of trips. BUT, if you did not own a car, it is possible to get access to places like Atlantic Station. With the introduction of ride services like Uber and Lyft, this is probably your quickest way to get to Atlantic Station from Midtown.
For Lenox Mall, you would take the Northbound Gold Line train, and exit at Lenox. From there, you cross East Paces Ferry Road and enter the Mall. Here's a map showing the location of the MARTA station in relation to Lenox Square.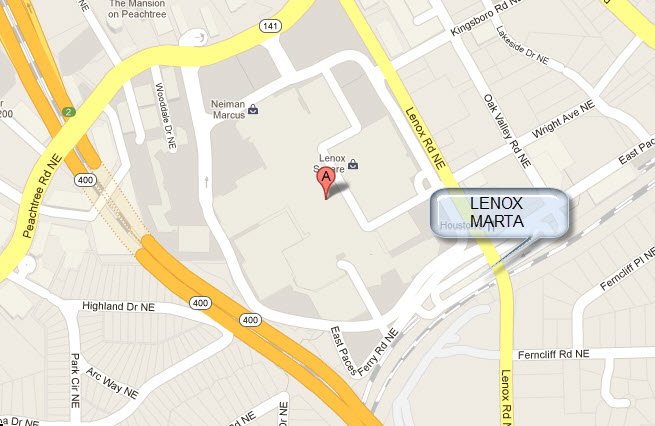 Unfortunately, MARTA is not a cheap transportation system. Effective 10/2/11, a one-way trip is $2.50! There are cost saving options such as a 7-day pass for $23.75 that give you unlimited rides for 7 consecutive days, or a 30-day Pass for $95.00 giving you unlimited rides for a 30 day consecutive period.
But, if you happen to be without a car for a few days, or, want to consider living in Midtown Atlanta without a car, you do have options to get where you need to go. Of course, your place of employment will also dictate if you can use MARTA and not have a car.
Visit the MARTA website for more information about MARTA, including fares, schedules and other programs such as Visitor and University passes.