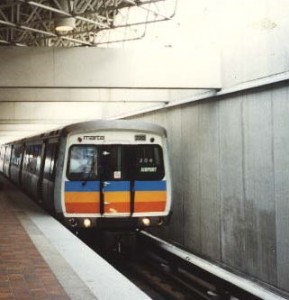 Having just been in and around Atlanta today conducting real estate business, there is that seven-letter word that comes to mind…traffic.
It's pretty hard to escape it in Atlanta. A major metropolitan area that has seen absolutely NO transit construction in some 13 years, and hardy any highway construction to help with our long standing love affair with our automobiles. Mind you, that love affair is caused by our urban sprawl and the need to get from Point A to Point B. And not any other options that the car. But could that be about to change?
MARTA Eyes Major Expansion on 400 North
It was reported in the Atlanta Business Chronicle today that MARTA is planning to extend transit service North, up the Georgia 400 corridor, with as many as 6 additional stations. ( I can hear people in Forsyth County doing the Happy Dance, and others going…there goes our quality of life!)
MARTA would look at using some 11.9 miles of existing right-of-way along GA400 from the existing  end of the line North Springs station in Dunwoody all the way to Windward Parkway in Alpharetta. Options range from heavy rail(what the current MARTA system is) to light rail or bus rapid transit.
The project would be the first expansion of the MARTA system since the Sandy Springs and North Springs stations opened in 2000, also on the Georgia 400 corridor.
Can you imagine enjoying the urban, walkable life style of Midtown Atlanta and be able to take a train to work in Alpharetta? Mind you, there will be some transfer involved as I would guess the stations will not be close to ALL the office complexes that have sprung up in that area over the years.
Let's see what's announced later next month!