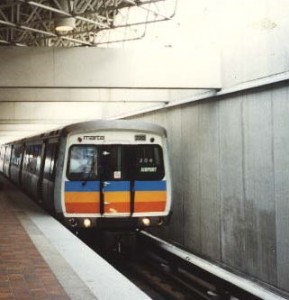 Come Sunday, MARTA (Metro Atlanta Rapid Transit Authority) is taking you for more than your normal  ride from home to work or perhaps the Atlanta Airport. It's 25% fare increase to $2.50 ONE WAY goes into effect on Sunday. But get this, monthly pass riders get hit with a whopping 40% increase, going from $68 per month to $95 per month. OUCH! Fares have risen 43 percent and 81 percent since 2009 which is when MARTA had their first fare increase in 8 years.
The fare is now on par with New York and Washington, D.C. But sadly the service is anything like those cities. First off, you can go pretty much anywhere in those cities via transit, and they run 24 hours a day. MARTA does neither of these.
An article that appeared in the AJC says many people will now rethink riding transit and go back to their cars. Keep in mind, parking rates in Atlanta are still very reasonable, compared to cities like NYC and DC. A Georgia State student commented they could be a monthly parking pass for $45. Heck, who wouldn't drive their own car!
For me personally, I own a home close to the Doraville Transit station. If I choose to ride MARTA to an event downtown, it costs me $15 round trip for 3 of us. I can search and find parking for that amount, the gas cost is minimal, and I've got the freedom to get home when I want.
All this also comes at a time when the Metro Atlanta area is getting ready to consider adding a 1% sales tax to fund some $6 Billion in transportation projects over the next 10 years. Voters will vote on the list of projects next summer. The actual list of what will be voted on is to be set later this month by a roundtable of stakeholders from the region. However, the in fighting has already begun. The suburbs don't want any part of what Intown Atlanta wants or needs, and vice versa.
It will be an interesting winter as this is hashed out via public relations campaigns to convince voters to approve the measure. If it fails…..who knows what commuting in Atlanta will be like 10 years from now.