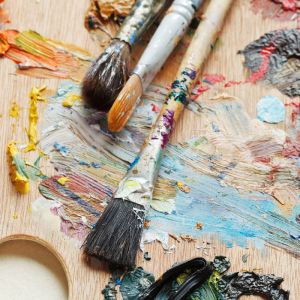 You have to love a neighborhood/community like Midtown! Always something about something, and new things coming for all angles. Now, let's look a Midtown to Add New Art Experiences….
Spinning Rock to Spin Out of Town
The big spinning rock at the corner of 10th and Peachtree is about to make it's exit to head Out West! For the last three years, the corner has been a constant source of curiosity and amusement for all who discovered the 22,000 pound boulder that spins with a push. A new sculpture will arrive in June….no indication of what it will be…but it too will have a 3-year residency.
Colony Square and the Creative Hive Experience
Leave it to North American Properties and it's leader (Midtown resident Mark Toro) to take a space and shake it up! I've often thought that the Food/Retail Court of that building was so underused. Of course, we know that North American Properties has big plans for a remake of this iconic Midtown space. But until then, enter The artist community Hambidge Center.
Colony Square and Hambidge are providing artists twelve empty retail spaces to turn into art studios and performance spaces. Totally awesome!!!! Check out their website for what's coming to this space!
New Stuff at Arts Center Porch
Last year, Midtown Alliance worked in collaboration with the High Museum of Art, their artist-in-residence Jaime Hayon and MARTA to enhance its plaza-turned-"Porch" at Arts Center Station. Through the partnership, Midtown Alliance commissioned site-specific art inspired by exhibit "Tiovivo", and added a public piano, seating, additional lighting, a bike repair station and Little Free Libraries. Building on The Porch's success, Midtown Alliance is working again with the High Museum to bring Hayon's new "Merry Go Zoo" piazza installation from The Woodruff Arts Center campus to Arts Center Station. Hayon is creating a custom, interactive "Shadowmaker" sculpture, featuring a bench base and topped with a hooded figure holding an umbrella-like shade. The sculpture will be installed in June, providing a whimsical focal point in the plaza as well as more seating and shade. Check here for updates on the new installation + events throughout the summer that will be hosted at "The Porch."
(This paragraph is directly from the Midtown Alliance)
Come on out and see what Midtown is all about….and if you'd like to call Midtown Atlanta home…..