One of the awesome things I love about Midtown Atlanta is the festivals. It seems like every time you turn around, there is another one to attend. I've certainly had to go into "look but don't buy" mode as I've got no more room unless I part with something. But it's always amazing to see what these people can create!
Midtown Atlanta Art Festivals | Festival On Ponce April 11-12, 2015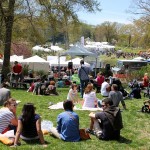 Festival on Ponce is another great festival that takes place in a park we often drive by but forget it's really a park…Olmsted Linear Park! The park runs along side Ponce De Leon Avenue after it passes the intersection of Briarcliff/Moreland and continues past the Fernbank Museum.
The Festival hours are Saturday, 10am-6pm and Sunday from 11am to 6pm.
Over 125 displays of arts and crafts, folk and outsider art will be there along with food and beverage! And its…..FREE!  The Festival On Ponce is sponsored in part by The Atlanta Foundation for Public Spaces. They sponsor numerous festivals around Atlanta and you can find those at their website!
You can also learn more about Olmsted Park from the Olmsted Linear Park Alliance.
Looking forward to seeing you in the Park!
You'll also be close to the new Ponce City Market if they have any of their retail open as well as the new Krog Street Market. Lots of things to see and do in Midtown Atlanta and the surrounding area!