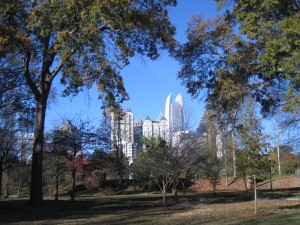 Well, this comes as no surprise to me. I've been selling the Midtown Atlanta lifestyle for some 9 years now. I've seen most of the condominium buildings I sell in every day rise from vacant lots and old buildings. So, to hear that Creative Loafing has named Midtown Atlanta Best Neighborhood to Live in Without a Car…well I would expect nothing less.
That said, if you do have a car, you can still live in Midtown! You may only need it for getting to and from work if you work elsewhere in the city. Living in Midtown has great traffic advantages as most of the time, and directions, you are going against the traffic flow. As the suburbanites pour into the Midtown and Downtown office buildings, you can easily head in the opposite direction. But once you are home, toss the keys in the bowl (we all have a bowl for our keys by the door, right?) and let your Nike's do the walking.
Creative Loafing says, "This sky-high 'hood boasts all you need for transit-/walk-/bike-friendly living: a Publix to keep your stomach full and a smorgasbord of bars to keep your liver constantly under attack; three convenient MARTA rail stops (North Avenue, Midtown, Arts Center); nearby culture at the Woodruff Arts Center and Fox Theatre, among other spots; and one of the city's best greenspaces, Piedmont Park.
Exciting things keep coming to Midtown Atlanta as the not-to-distant opening of Ponce City Market comes, as well as the opening of additional parts of the Atlanta Beltline, which crosses Midtown at Piedmont Park and again over at the Ponce City Market and Old Fourth Ward Park.
Come on down! Experience urban living like it was meant to be. Experience Midtown Atlanta!