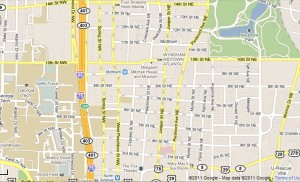 As a real estate broker that focuses on the Midtown Atlanta condominium market, I am often contacted about Midtown Atlanta Condos For Rent. Or lack thereof. Or not in the building I want. So, what exactly is involved in renting a Midtown Atlanta Condo?
First off, it's important to understand that a condominium building (or as we like to refer to them as communities) is NOT an apartment building. A condominium is a form of real property where a specified part of a piece of real estate (usually the part you actually occupy) is individually owned while use of and access to common facilities in the building such as hallways, heating system, elevators, exterior areas is executed under legal rights associated with the individual ownership and controlled by the association of owners that jointly represent ownership of the whole piece. In short, we call that "common elements" or "limited common elements."
In an apartment building, a tenant pays rent to some corporate entity that owns the entire building and all its components like hallways, pool and more.That said, in cities like New York City, most rentals are referred to as apartments even though they may be in a condo or co-op form of ownership.

So when you are searching for a Midtown Atlanta Condo For Rent, you are looking for an individual owner that is willing to rent you their HOME, which comes with some pretty nice amenities. (usually) It is also important for you to know that almost all condominium buildings have a restriction or "cap" on how many of the homes can be rented at any given time. As a result, when we receive a call that a potential tenant wants to live only in Spire Midtown or Viewpoint Midtown, we may not be able to assist them. It's not like calling up the leasing office of the apartment complex and checking if they have an apartment available. If there are no homes available, we do not have anything to show you.
Also, when searching for your Midtown Atlanta Condo For Rent, you want to make sure that the home is an approved rental. What does that mean? The owner has approval from the HOA Board to lease their home legally. If you happen to lease directly from an owner and they do not have this approval, you could be evicted from the unit if the homeowner is discovered to be in violation of the building leasing policy. You should always ask to see a copy of their leasing permit.
When renting a Midtown Atlanta Condo, most of the time your landlord is paying the monthly HOA fees that cover the above mentioned use of the "common elements" or areas like the elevator, pool and fitness center. Should your owner suddenly stop paying these fees, you could find yourself standing in the lobby, locked out of the very place you are renting! Scary thought? It might be wise of you to check with the property manager of the building you are living in (or considering) if the owner is current with their payment of these fees.
When I work with you in finding a condo to rent, I assist you in checking all these items and obtaining the necessary information for you. Additionally, if I am representing a homeowner in the rental of their condominium, I make sure I have all these documents for a prospective tenant.
If you are looking for Midtown Atlanta Condos For Rent, rather than call 10 or 15 agents to see 10 or 15 condos, you can call just one, who can show you what's on the market. Now, as a disclaimer, if something is for rent and is listed only with the owner, I may not be able to show you that particular home as the owner is not willing to pay anyone to assist them in renting their place. Again, Buyer (or Tenant) Beware!
If I can help you with your search for a Midtown Atlanta Condo For Rent, please contact me!
If I can help you LEASE your Midtown Atlanta Condo, I'd be happy to discuss our Marketing with you!