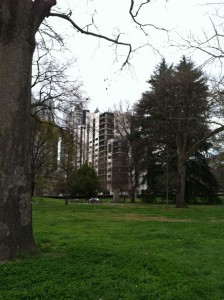 Ansley Above The Park Condominiums is THE closest high rise condominium building to Piedmont Park!  (Yes there are other buildings closer, but NOT a high rise!
Although Ansley Above The Park was built in 1988, don't let that keep you from experiencing what is unique about this building.
Eleven different floor plans combine for a total of 127 homes. Of course, since the building was built in 1988, the best option is to find a home that has been renovated or it will be dated in finishes. On the flip side of that, a home that has not been renovated will give the buyer more flexibility in remodeling and creating the home they desire!
Each home has a private balcony with electricity, not found in many condominium buildings. I've often said this is such an overlooked, but awesome PLUS in a condominium building. You can have a water feature and along with a variety of potted plants….create your own "garden in the sky." Pretty cool.
Ansley Above The Park amenities include a swimming pool and deck on the 4th Floor, a roof top terrace on the 11th Floor, as well as a club room and exercise room.
Ansley Above The Park also has a guest suite with separate entrance to the pool, full kitchen and washer/dryer. It can be reserved by the residents for up to 7 days at a time.
Underground parking, a 24-hour concierge and newly renovated lobby and elevator foyers complete Ansley Above The Park.
Search Ansley Above The Park Homes For Sale Here! 
If you have any questions about this unique Midtown Atlanta living opportunity, call me at 770-713-1505!