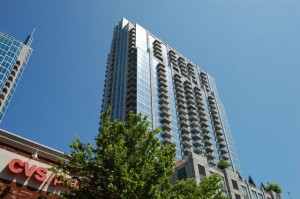 With no significant new condo construction on the horizon (literally) in Midtown Atlanta, buyers will be looking at re-sale homes when looking to buy a Midtown condo.
One of those options is Viewpoint Midtown Atlanta!
Viewpoint Midtown Atlanta
Sitting proudly on Peachtree Street, between 6th and 7th Streets, Viewpoint Midtown was one of the last new buildings completed before the turn of the real estate market. While developed by Condo King—Novare — at least this was the result of improvements on past buildings they built.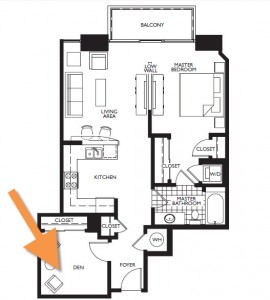 Viewpoint Midtown offers buyers one bedroom, one bedroom + den, two bedroom and two bedroom plus den floor plans. There really is a wide variety of homes in this building! The "den" feature was a first for our new high rise buildings and gives the homeowner some flexible space for a home office or guest room. Some people have done renovations and removed the 3/4 wall and made it a dining area (depending on the floor plan).
When searching for homes in Viewpoint Midtown, you need to know what the floor plans are like. For example, there is one 2-bedroom floor plan that has the second bedroom open..with no doors. (the "05" stack) So if you were thinking you had two separate bedrooms, you might be in for a surprise! The second bedroom can be closed off in unique ways with french doors, sliding doors or a wall with some type of opaque window.
When looking at condominium living, you not only want to look at the personal space of your own home, but the amenities the building has to offer. And Viewpoint Midtown scores a "10" when it comes to amenities!
Located on the 11th and 12th floors, amenities include a Club Room, Movie Theater, Catering Kitchen, Lap Pool, Grilling Bar, Zen Garden, Outdoor Living Room and an expansive Fitness Center.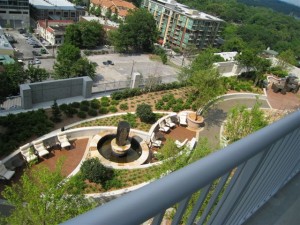 The Club Room features the Movie Theater and Catering Kitchen. There are numerous flat-screen TV's throughout the area and even an iPod docking station for your own music.
The Zen Garden and Outdoor Living Room offer a great escape if you want to get out of your condo, but not leave the building. From the couches and gas log fireplace in the living room area, to seating around a water feature set amongst the trees, it truly is an "oasis in the sky" when you are here! The other side of the 11th Floor has the lap pool, complete with lounge chairs and a wet bar. Two "grilling bars" and ample tables give you some great entertaining space for family or friends.
The street-level retail of Viewpoint Midtown seems to finally be taking shape. There is BB&T, the newly opened World of Beer and a salon and massage studio. Starbucks, on the corner of 7th Street will soon be temporarily located in Viewpoint while the construction of Seventh Midtown (one of ONLY two new condo buildings currently planned) takes place. Once that building is complete, they will move back into the first floor.
Viewpoint Midtown Atlanta. Come find your perfect view!