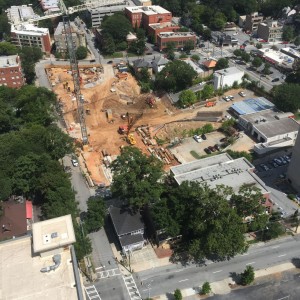 It's no secret….Midtown Atlanta construction boom is ON! Just take a look at the skyline and you will see the return of cranes on what seems like every street corner. The crane companies are certainly happy~!
Midtown Atlanta Construction Map
I've been meaning to put a post together of all projects, both Under Construction, or proposed. But time just got in my way!
But my friends over at Curbed Atlanta have put together quite an impressive summary of the projects that have recently completed in the last couple years, along with what is Under Construction and Proposed.
One Museum Place and Seventh Midtown are the only two new construction condominium projects at this time. Every other building is currently planned to be rental apartments. One can only think there may be a rental glut come late 2016 as these buildings all come on line. It is certainly something to keep an eye on if you are a real estate investor (own a rental condo….you rent may take a hit as people look to move to the shiny new building) and if you are looking to purchase, we wonder if any of these projects has a "conversion clause" that will allow them to move from rental to a For Sale situation.
Time will tell.
Click on the photo below to go to the story at Curbed Atlanta!