Now, the last remaining new construction condominium building in Midtown Atlanta,  1010 Midtown Atlanta is selling quickly. When the real estate market turned, 1010 Midtown Atlanta only "adjusted" prices once, and held firm ground on their building. As a result, the prices have remained steady.
The building has a unique location on the curve of Peachtree Street as it heads North in Midtown, hence many of the homes on the Eastern/Southern side of the building have amazing vistas of Peachtree Street, Midtown and Downtown.
With it being the last new building, activity was brisk in January. Let's take a look…
Midtown Atlanta Market Report | 1010 Midtown | January 2013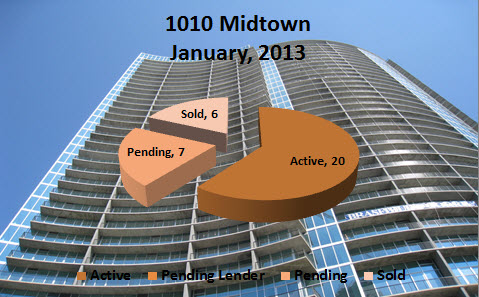 Let's look at the breakdown of these numbers…
Twenty Active Listings include the following:

7 One Bedroom homes ranging from $220,000 – $299,000
9 Two Bedroom homes ranging from $400,000 – $749,000
3 Three Bedroom homes ranging from $1,000,000 – $1,380,000
Under Contract Listings include the following:
2 One Bedrooms at an average of $228,500
4 Two Bedrooms ranging from $459,000 – $590,000
1 Three Bedroom at $534,900
Sold Listings include the following:
2 One Bedrooms at $244,000
3 Two Bedrooms at $493,000
1 Three Bedroom at $1,250,000
Certainly, 1010 Midtown represents some of the priciest condos sold, especially in the 2 and 3 bedroom price ranges. But you can quickly see the price appreciation trend here. SOLD 2 bedrooms at $493 and UNDER CONTRACT up to $590!!
My last word was the building is at about 85% sold. With some of the upper price points in Midtown Atlanta condos, they may be here for awhile, or they may sell, since there is no other new construction to choose from! We'll have to watch and see for sure!
I also was told by a sales representative that they may actually RAISE prices on some of the homes. How's THAT for an indication of a Seller's Market?