This will be our first Market report for 1280 West Condominiums. We had not had this building on our list, for numerous reasons.
1280 West is a conversion for a former corporate apartment building, and as such, homes do not have washer/dryer connections in them. Some owners have "tossed" the dishwasher for euro-washers to have this convenience in their home. However, there are laundry facilities on each floor.
Midtown Atlanta Market Report | 1280 West Condominiums | January 2013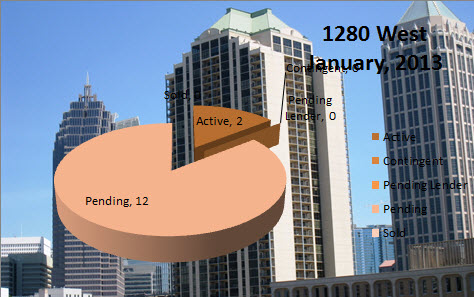 As is the story in most of the Midtown Atlanta condominium buildings, there is not much inventory at 1280 West.
1 One Bedroom is listed at $105,000
An incredible EMPTY ENTIRE Floor is listed at $965,000. (I've got to get some photos of this one!)
12 Homes are Under Contract, ranging from $40,000 – $105,000
There were no Sales in January, 2013.
As a comparison, in January, 2012 there were 5 Homes sold, ranging in price from $26,500- $59,000. This building was hit hard by foreclosures and short sales and may take some time to see the prices come back up.