Midtown Atlanta Market Report | Cornerstone Village December 2012
Cornerstone Village was one of the busier Midtown Atlanta condominium communities in December. Between Active Listings and homes Under Contract, and Solds, there were 18 homes with "activity."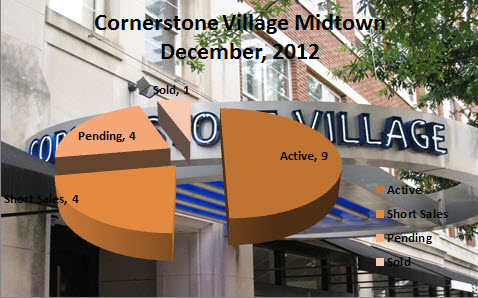 A detailed look at the activity in Cornerstone Village for December shows:
Eight 1-Bedroom Homes Listed For Sale from $73,000 – $135,000
One 2-Bedroom home Listed For Sale at $189,000
8 Homes Under contract with an Average List Price of $90,500 for traditional sales and $104,500 for short sales. (Will be interesting to see how these homes close out once the short sale process is completed)
ONE home Sold in December at $76,500
This compares to 2011 when there were SIX homes that sold:
1- Bedroom Average Sales Price $73,000
2 Bedroom Average Sales Price $187,500
Cornerstone Village still leads the way in the value-priced options for Midtown Atlanta condo living. You have a Peachtree Street address, and most of the amenities of other condo buildings. The unique layout of the community (4 separate buildings) does not allow for a central lobby with a concierge, but all buildings have secured access via key fobs/cards.
Cornerstone Village is also the closest condo building to GA Tech with great prices for students and parents looking for off-campus housing options.
You can learn more about Cornerstone Village by clicking here.
We're sorry, but it seems that we're having some problems loading properties from our database. Please check back soon.