For our report, we have combined sales information for both Mayfair Renaissance and Mayfair Tower in one report. Let's look at the Midtown Atlanta Market Report for Mayfair Renaissance/Tower for April, 2012.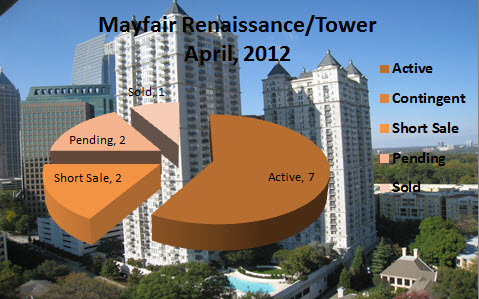 There are currently 7 2-bedroom homes listed For Sale in Mayfair Renaissance/Tower. They range in price from $599,000 for a Penthouse to $179,000.
Two homes are Short Sales Pending Lender Approval with an average price of $122,000. 2 homes are Under Contract with one at $239,000 and one at $175,000.
One home sold in April 2012 at $190,000. There were 3 sales in April, 2011. I did break these down to one at the Renaissance at $229,000 and the other two were in the Tower at a miserable $87,900 average! Yikes!
To learn more about this building, visit the Mayfair Renaissance/Tower Community page! If you are looking to Buy or Sell a Mayfair Renaissance/Tower condominium, I'd be delighted to represent you! Just check the Chat window below to see if I'm on the site, or you can Contact Me Here! I look forward to helping you!
%%ds_Results|{"SearchSetupID":"30","directive.ResultsPerPage":"15","directive.SortOrders[0].Column":"Price","directive.SortOrders[0].Direction":"ASC","query.BathsMax":"","query.BathsMin":"","query.BedsMax":"","query.BedsMin":"","query.Cities":"","query.Communities":"","query.Counties":"","query.DaysOnMarketMax":"","query.DaysOnMarketMin":"","query.ImprovedSqFtMax":"","query.ImprovedSqFtMin":"","query.ListingStatuses":3,"query.LotSqFtMax":"","query.LotSqFtMin":"","query.PriceMax":"","query.PriceMin":"","query.PropertyTypes[0]":"225","query.PropertyTypes[1]":"229","query.PropertyTypes[2]":"230","query.SearchSetupID":"30","query.TractIdentifiers":"0","query.YearBuiltMax":"","query.YearBuiltMin":"","query.ZipCodes":"","requester.AccountID":"11305","requester.ApplicationProfile":"WordPressIdxModule","requester.ApplicationVersion":"6.2.2","requester.ClientIpAddress":"66.249.64.132","requester.ClientUserAgent":"Mozilla\/5.0 (Linux; Android 6.0.1; Nexus 5X Build\/MMB29P) AppleWebKit\/537.36 (KHTML, like Gecko) Chrome\/117.0.5938.92 Mobile Safari\/537.36 (compatible; Googlebot\/2.1; +http:\/\/www.google.com\/bot.html)","requester.PaginationUseActivationPath":"true","requester.PluginVersion":"3.17.1","requester.RequesterUri":"https:\/\/www.mymidtownmojo.com","requester.SearchSetupID":"30","requester.UtcRequestDate":"2023-09-29T07:16:24+00:00","responseDirective.IncludeLinkMetadata":"true","responseDirective.IncludeMetadata":"true","responseDirective.ListTabAlignment":"Left","responseDirective.ShortcodeResultsView":"","responseDirective.ShowLargerPhotos":"false","responseDirective.ViewNameSuffix":"shortcode","requester.Signature":"7c087c01539b9796df771679f9919e7b47a2349e"}|ds_end%%