Metropolis Midtown Atlanta was the true start of the changing high-rise skyline of Midtown Atlanta! This building is still a great living option in Midtown, and just had their club room renovated…and hallways are now starting with new wall coverings and carpet.
Midtown Atlanta Market Report | Metropolis Midtown | March 2013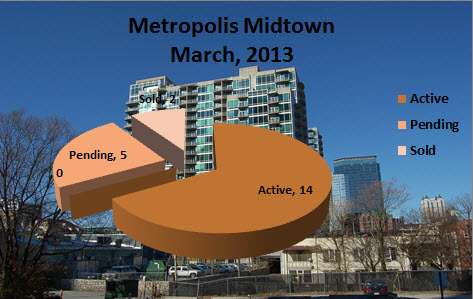 Let's take a look at the March Sales activity for Metropolis Midtown Atlanta….
ACTIVE LISTINGS (14) (UP from 4 in January's Report)
ELEVEN 1 bedroom homes are listed, ranging from $129,000 – $220,000 — 

Average List Price: $167,473

Three 2 Bedroom homes listed, ranging from $290,000 – $320,000 — 

Average List Price: $303,000
PENDING LISTINGS (UNDER CONTRACT) (5)
Three 1 Bedrooms ranging from $129,000 – $182,000 — 

Average List Price: $158,000

Two 2 Bedroom homes at $499,000 and $599,000 — 

Average List Price: $549,000

These two homes are unusual and not typical Metropolis listings..one is a penthouse, and the other is located on a high floor with a huge terrace, a unique home for this building
SOLD (2)
One 1 Bedroom at $135,000

One 2 Bedroom at $262,000
2012 SALES ACTIVITY COMPARISON
Two 1 Bedrooms at $114,000 and $141,000 — 

Average SOLD Price: $127,000

A Penthouse Home also sold in March, 2012 at $1,000,000. It was originally listed at $1.3 Million.
It would seem the Spring Selling Season hit Metropolis Midtown Atlanta with the big jump in the inventory! Let's hope we see these homes move quickly!