Park Central Condominiums are convenient to all that is Midtown Atlanta…especially Piedmont Park. But just across the street, you will find the new Loews' Midtown Atlanta Hotel, part of the 12th & Midtown development with restaurants and CB2 for all your new condo furnishing needs!
Park Central boasts the only indoor pool for a Midtown Atlanta condo building. (Not counting the Four Seasons that is in a whole other price point!) Additionally, you can get a great workout in their fitness center, one of the largest I've seen in a condominium building!
So what's happening with the real estate market at Park Central Condominiums….
Midtown Atlanta Market Report | Park Central Condominiums | January 2013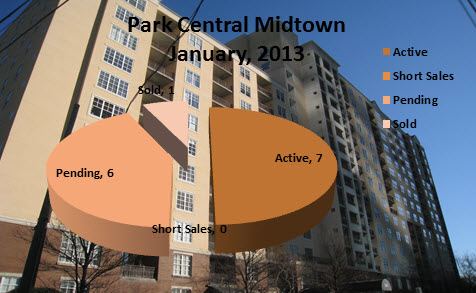 Inventory is a bit higher in Park Central than other Midtown buildings, and there is also more homes Under Contract! Great news indeed!
7 Active Listings
1 One Bedroom listed at $204,000
Six 2-bedrooms listed in price from $189,000 – $249,000.
SIX homes Under Contract including three 1-bedrooms ranging from $124,000 – $144,000 and three 2-bedrooms ranging from $199,000 – $219,000
ONE home Sold in January, 2013, a 2 bedroom at $260,000
For comparison to January 2012, a 1 bedroom sold for $107,000 and a 2 bedroom at $156,000.
It's clear to see that the prices are moving up at Park Central Condominiums!!
If you are looking to Buy or Sell At Park Central, give us a call and let's talk real estate in Midtown Atlanta!