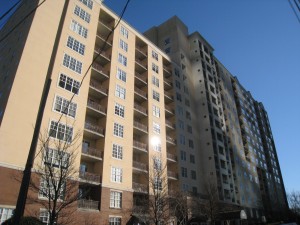 Park Central Condominiums are located on Juniper and 13th Streets. This Midtown Atlanta condominium building has a great location, convenient to Piedmont Park, Colony Square and the Woodruff Arts Center.
Park Central is also one of only TWO Midtown Atlanta condominium buildings that boasts and INDOOR and outdoor pool! So during this tough winter, if you were a swimmer you were in luck here!
For the year ending, 2013, Park Central was #3 in the Top Ten Selling Midtown Atlanta Condos! 
Midtown Atlanta Market Report | Park Central|Year End 2013
In 2013, Park Central had a total of  43 homes sold. This compares to just 29 homes in 2012!
19 One Bedroom homes with an Average Sold Price of $143,108. The 2012 Average Sold Price was $114,964.
24 Two Bedroom homes with an Average Sold Price of $208,269. The 2012 Average Sold Price was $195,063.
Park Central also offers its residents an expansive fitness center, club room and a rooftop sunning area along with outdoor grills at the pool. There is guest parking available in the building garage, which in this area, close to Piedmont Park and additional condo and apartment buildings is a real PLUS!
A side note about this building and the future. The west facing homes (overlooking Juniper Street) also overlook a vacant city block. The developers of 12th and Midtown have just announced the next phase of their development, and it will be a 50 story building on this block! So the current views from these homes will be greatly impacted in the next couple years.