Viewpoint Midtown Atlanta might be called the crown jewel of the Novare buildings that were built during the condominium building race in Midtown. (Novare built buildings all over Atlanta). It certainly seemed to evolve from their other buildings to get the finishes in the homes stepped up, and the amenities level a "one-of-a-kind" in Midtown Atlanta condo buildings.
Just like most of the condominium buildings in Midtown, Viewpoint is starting to see prices climb, especially for two bedroom homes.
Midtown Atlanta Market Report | Viewpoint Midtown | January 2013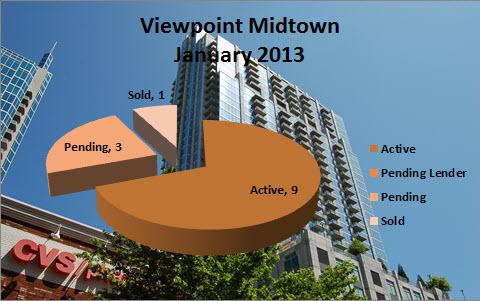 In January, there were just NINE homes listed For Sale in the building"
Five 1 Bedroom homes ranging from $185,000 – $239,000

Four 2 Bedroom homes ranging from $275,000 -$379,000
Three homes are Under Contract — a 1 Bedroom at $154,900 and Two 2 Bedrooms at $359,000 and $379,000
One Home Sold, a two-bedroom at $302,000
To compare, and show the increase in prices, in 2012, there were two 2-bedroom homes that sold with an average sales price of $265,395. Compare that to the $302,00o from this year!!!!
Buyers that sit on the fence and wait to buy will pay for it in higher prices at Viewpoint Midtown Atlanta.