The "mercedes" of Novare's Midtown Atlanta Condo buildings, Viewpoint Midtown Atlanta has finally SOLD OUT! Great news for the Midtown Atlanta real estate market, and for those who may be looking to sell their Viewpoint Midtown condo. No more developer to compete with!
But, this building is no exception in the Midtown Atlanta real estate market with low inventory and options for Buyers.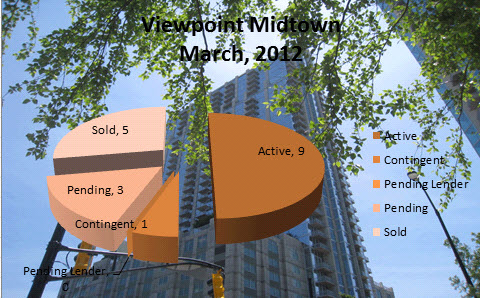 The List Prices in Viewpoint Midtown range from $155,000 for the smallest 1 bedroom (a foreclosure) to $350,ooo for a 2 bedroom. The homes that are Under Contract (Pending) range from $197,000 – $350,000. Home prices are stable in this building, but as I just mentioned, there is a foreclosure that can quickly start to impact appraisals in the building. Let's hope we keep those to a minimum! Of the homes sold, the average Sales Price for 2 bedrooms was $290,750 and the one 1-bedroom that sold was at $205,000
Viewpoint Midtown Atlanta has struggled with it's retail space however! Evos Restaurant opened, closed, opened….and now closed. A kitchen design store has since closed as well. (I've never understood the need for all these kitchen design stores in Midtown Atlanta where all the condo buildings are much newer, and most of the owners are not in the position to gut and redo kitchens?) A Sprint Store now occupies one corner and a hair salon is located on the second level. One would wonder if the cost of the space keeps everyone away?
Viewpoint Midtown Atlanta is a great example of condo amenity design done right. From the expansive club room, fitness center, outdoor living room, zen garden, multiple grilling/dining areas and the resort lap pool, this is a great place to call home in Midtown Atlanta!