Although not in Midtown "proper," White Provision Residences in Midtown West are one of the last remaining condominium buildings that have Brand New, Never Lived In inventory!  Our January, 2013 report will indicate 13 homes listed, but there may be some inventory that is not showing in the MLS. However, it's fairly safe to say the the options in White Provision are becoming limited indeed!
Midtown Atlanta Market Report | White Provision | January 2013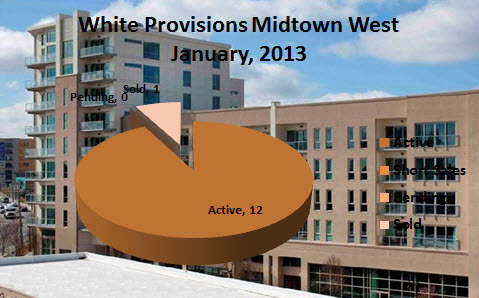 Here is a breakdown of the current inventory:
Three 1 Bedroom homes ranging from $210,000-250,000

Seven 2 Bedroom homes ranging from $275,000 – $817,000
Two 3-bedroom homes at $395,000 and $807,000
ONE home sold in January, a 2 bedroom at $300,000
These prices may seem a bit "all over the board" when you look at them but they vary based on the floor in the building and the square footage of the home. As an example, the one 2 bedroom home at $817,000 is actually a Penthouse home, but is only a 2 bedroom.
White Provision and the Midtown West area are a great Intown Atlanta living option. There is additional new construction happening just across the street, and around the corner, both new apartment buildings. But the completion of those buildings will just add more people and activity to the area!