MidCity Lofts is located on Spring Street at 6th, just across the street from GATech's Technology Square. This Midtown Atlanta condo building has seem the LEAST amount of inventory available in recent months. Homes listed here easily go Under Contract in days!
Midtown Atlanta Market Reports | MidCity Lofts | January 2013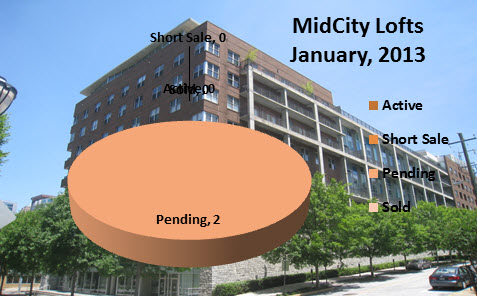 And as you can see, this building has NOTHING available For Sale! Two homes are Under Contract, a 1-bedroom at $169,000 and a 3-bedroom (which is a combination of two homes) at $335,000. There were no sales in January.
In comparison to January, 2012 when there was ONE sale, and it was MyMidtownMojo and Thom Abbott the represented that GATech Buyer!
Click HERE for more information about MidCity Lofts Condominiums!
Are you looking for that perfect Midtown Atlanta condo to call home? Maybe you are considering listing your home For Sale?  Give me a call at 770.713.1505 or drop me a note! I'll tell you all about the market and what you can expect!