Peachtree Lofts was one of the very first condo conversions in Midtown Atlanta! A former office building was gutted and the insides redesigned with a variety of floor plans. The building arrived on the scene before granite and stainless steel kitchens were the "must haves." However, get one of these at the right price, and renovate it, and you will have a jewel in cool building!
Midtown Atlanta Market Reports | Peachtree Lofts | January 2013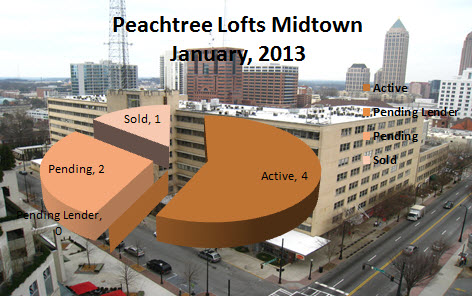 In January, here's a snapshot of what was happening in Peachtree Lofts:
4 Homes Listed For Sale — a 1 bedroom at $200,000 and three 2- bedrooms ranging from $179,000 – $264,000
Two 1-Bedrooms are Under Contract with List Prices of $110,000 and $132,000
One home SOLD in January, a 2-bedroom at $252,000
In January, 2012 the building had only 1 sale, a 1-bedroom at $97,900.
Notice a pattern here? Look at the SOLD price in 2012 and the Under Contract Price in 2013! Prices are headed in the right direction, especially with limited inventory to choose from!