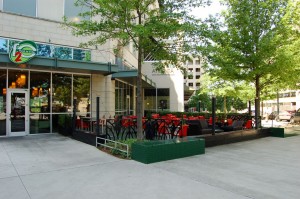 If you live in your car, you really might not grasp the concept of walking out your front door, and within steps, be at Starbucks or Gordon Biersch, Fresh To Order, Five Guys Burgers, CVS Pharmacy, Senior Patron's, a bank, an eye doctor AND a dry cleaners!
But, in Midtown Atlanta, that is all possible.
Midtown Atlanta Spells Walkability!
All those places above? Other than Starbucks, which is….gasp….across the street, all of those places are ON THE SAME SQUARE BLOCK in Midtown Atlanta. Several of them make up the retail portion of Spire Midtown Atlanta! Gordon Biersch and CVS Pharmacy are on the same block as Spire, but free standing buildings.
Can you imagine coming home from work on Friday night ( we are presuming you may have to use your automobile to commute to and from work) and not starting the car again until Monday morning? But during that 48+ hours, you could take in a Broadway play, view priceless works of art, have coffee, breakfast, lunch and dinner and never turn on the stove? If that appeals to you, then Midtown Atlanta IS the place for you!
What does walkability mean to a community? Just take a look!
And when you are ready to enjoy all this, call me and let's find you that perfect Midtown Atlanta home!