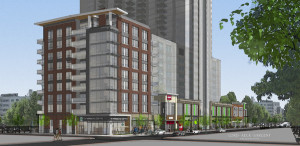 Is the condo building vacation about to end in Midtown Atlanta? It would seem so. Coming soon to the corner of Peachtree and 7th Streets is….Seventh. (Hey, nobody said our Atlanta developers were creative in naming buildings….) It will be the first new condo building built in Midtown Atlanta in SEVEN years….
Midtown Atlanta To Get New Condo Building Seventh
I actually attended the Design Review Committee (DRC) Meeting at the Midtown Alliance when this project was first presented as luxury apartments. Robin Loudermilk, the former Aaron's Inc. CEO and now a full-time real estate developer has also purchased the retail component and retail parking portion of the Viewpoint Midtown building, located next to the proposed building site. At the DRC meeting, a plan was presented that will "tie together" the Viewpoint retail space with the new 100 6th Street apartment building and its adjoining parking garage and retail space. That will still happen, the change is now the apartment building will be condos.
Mind you Midtown Atlanta condo buyers, don't get your checkbooks out just yet. Unless you have a BIG checkbook. The building will feature 21 condo homes, ranging in size from 1700-2000 square feet, with the homes starting at $600,000! Additionally, there will be two penthouse homes at 2,500 sq.ft. starting at just under $1 million. And this is not a high-rise building by Midtown Atlanta standards…the building is not expected to pass the amenities level of its neighbor, Viewpoint, which are on the 11th floor. In an article in the Atlanta Business Chronicle, it states the building will have access to the Viewpoint amenities, most likely meaning pool, fitness center and rooftop pool, all located on the 11th floor.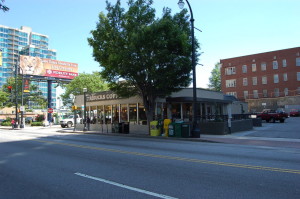 Loudermilk said the project does not have a construction loan, and they won't break ground until a significant number of the homes are pre-sold. The price point of the building will be $350-400 per sq. ft. which is high, considering most recent sales in Midtown Atlanta condo buildings have been less than $300 per square foot.
But the Intown Atlanta market has been brisk in the last year, and prices have gone up some 19% from 2011 to 2012.
We'll be keeping an eye on this building. If you have any interest, contact us to be placed on the VIP list for pre-sales when floorplans and specific pricing are available.
Oh, by the way…for your Starbucks addicts, this IS where the current Midtown Starbucks is located. But never fear….Starbucks will relocate to empty space in the Viewpoint retail area, and when the building is completed, it will be the major retail tenant for the new condo building. Whew….you thought you were going to lose your Starbucks!