ATLANTA – JULY 1, 2010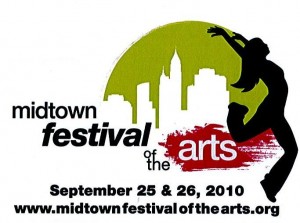 Atlanta area residents and visitors will enjoy a new regional arts event this fall when the debut Midtown Festival of the Arts opens September 25-26.
Atlanta Mayor Kasim Reed and festival organizers today officially announced the details for the new neighborhood arts festival which will celebrate Midtown Atlanta's diverse arts and entertainment offerings. The press conference was held at the new Loews Midtown Atlanta Hotel, a sponsor of the event.
The premiere festival will be proudly presented in and along world famous Peachtree Street between 5th and 10th Street. The road nickmaned the "Midtown Mile" will be temporarily transformed to showcase a vibrant artist market – including up to 100 visual artists – as well as stages for performing arts, literary arts offerings, and a culinary arts area featuring chef demonstrations, special tastings and retail booths from more than 25 outstanding restaurants.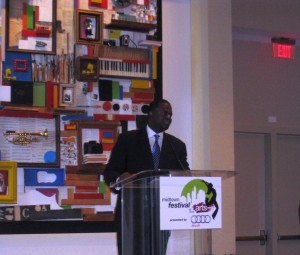 "It gives me great pleasure to announce the new Midtown Festival of the Arts and to observe the widspread community effort that brought this Festival to fruition," said Atlanta Mayor Kasim Reed. "The two-day neighborhood event promises to be a joyous gathering that showcases the important cultural assets of our city, embraces all of our citizens, and positively represents Atlanta's diverse cultural tapestry."
Created by Midtown Festival of the Arts, Inc, the event also includes a family friendly kid zone, Midtown Mile Road Race, a public art display and auction, a planned beer garden and other festival attractions such as street performers, spoken word events and film presentations.
"Our goals are to showcase the best of Midtown Atlanta while celebrating the Southeast as a destination for arts, culture and entertainment," said Leslie Johnson, President of Midtown Festival of the Arts. "The time is right to strengthen Midtown's already vibrant neighborhood."
The Midtown Festival of the Arts will be a free event accessible by MARTA's Midtown and North Avenue stations. Festival hours are Saturday 10am to 7pm and Sunday 11am to 6pm. A festival kickoff event (yours truly is the Chairman of THIS event!) is planned for Friday, September 24, with an Art Auction featuring 30 bar stools created by Midtown artists. On the morning of Saturday, Sept 25, the Midtown Mile Road Race will take place from Colony Square to the Fox Theatre. A Saturday evening outdoor film event on Peachtree and 10th is planned with a start time of dusk.
Reed also emphasized the importance of community to create a successful event.
"As Mayor, I take pride in observing the broad based, generous and spirited support that members of our community have extended to the Midtown Festival of the Arts, and in knowing that hundreds of volunteers will make it a great success," said Reed. "This Festival has my complete support, and I look forward to attend this new signature event in Atlanta."