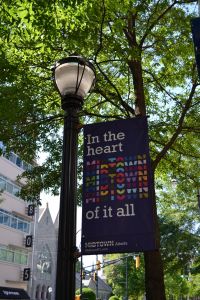 Midtown Alliance is a non-profit membership organization and a coalition of leading business and community leaders – united in our commitment to Midtown as a premiere destination for commerce, culture, education and living. Governed by a 71-member board of the district's top private sector leaders, our mission is to improve and sustain the quality of life for those who live, work and play here. The Alliance accomplishes this goal through a comprehensive approach to planning and development that includes initiatives to enhance public safety, improve the physical environment, and strengthen the urban amenities which give the area its unique character.
Guided by a visionary master plan – Blueprint Midtown – and in partnership with the Midtown Improvement District, Midtown has become a national model for urban excellence.
Midtown Alliance puts out various communications each month and throughout the year to keep residents and Midtown employers informed of what's going on in the area. While you might find some of these things on their website, we wanted to share with you the September issue of Midtown Mobility from Midtown Alliance.
This is a month-long, FREE event also known as the Atlanta Bike Challenge. Biking, teambuilding, competition and prizes! Click on the link for more information about this event!
A key part of getting more retail (and maybe a couple less restaurants) is have feet on the street. While the Midtown population has grown, it's certainly nothing like Midtown Manhattan! Midtown Alliance will look at the increase in foot traffic as well as car traffic. If you can imagine, technology that will measure pedestrian activity!! WOW! Data like this can be important to anyone looking to open a store front in Midtown!

Here is a link to the complete September Midtown Mobility newsletter.