Midtown Neighbors' Association Annual Meeting
Tuesday, January 18, 2011 – 5:30-8:00pm
Park Tavern, Midtown Atlanta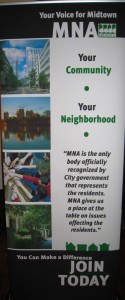 The Midtown Neighbors' Association (MNA) will hold their Annual Meeting and Board of Director Elections on Tuesday, January 18th at the Park Tavern in Midtown Atlanta.
Traditionally held in April, the Annual meeting has been moved to January as the association changed its fiscal year last year.
The Association will elect 8 Board of Director Members for 2 year terms. (You might recall that I have been a Board Member for the past three years!)
The dinner is $10 for Adults and $5 for children. Non MNA members pay $15.
Midtown Neighbors' Association was formed in 1969, is run by neighborhood volunteers. MNA is the only body officially recognized by the City of Atlanta government that represents the residents. MNA gives residents a place at the table on issues affecting the residents.
For More Information about MNA, or to join, visit their website, Midtown Neighbors' Association.