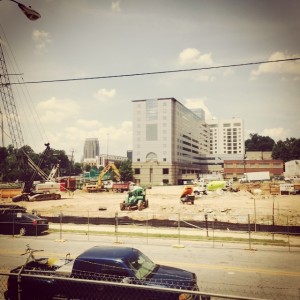 Indeed, another Midtown Atlanta apartment tower is headed upwards on the skyline!
Modera Midtown Breaks Ground
In all of my years of selling Midtown Atlanta real estate, this is going to be a VERY interesting combination on this block! A luxury apartment building (we say luxury based on projected rents) sharing a block with a 100% student housing high rise!
Modera Midtown is being built by Mill Creek Residential, the same group that is currently building the Modera name at Cheshire Bridge and Piedmont Roads. (That building will feature a Sprouts Farmer's Market.) The Modera Midtown will rise some 29 stories, overlooking the Downtown Connector, and the soon-to-rise NCR corporate headquarters.
But having not seen the Eastern-facing part of the building, one has to wonder how these two buildings will work side-by-side. I've heard there is to be a HUGE video screen on the pool deck of University House. And will there be apartments facing directly at University House?
I took the rendering of the building and added a couple notes….the red line indicates the location of University House.
The yellow highlights indicate all the buildings, that if they really DID exist in Midtown Atlanta, would be pretty amazing! 
We will keep an eye on this one….other than overlooking the Downtown Connector (which can make for interesting viewing) this would be one really cool condominium tower! Wishful thinking?