This past week, I got yet another glimpse of the ever growing movie/television industry in Atlanta, which is been dubbed "Hollywood South." And there appears to be no signs of stopping.
Movie Production Grows in Atlanta | East Mountain Studios
I attended the grand opening of the new East Mountain Studios….not really in Atlanta, but the suburb city of Conyers. I'm not a stranger to this facility! Part of the filming of Fast and Furious 5 was filmed here, and just down the street, where they had build massive outdoor sets.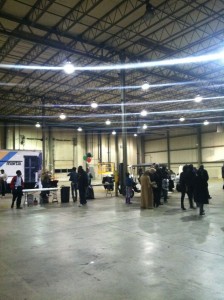 The facility itself is pretty impressive with its list of features….
4 Sound Stages ranging in size from 10,000 to 40,000 sq. ft.
18 wooded acres for backlot development available build to suit
6,500 sq. ft of production office space
5,000 sq. ft. of training area and rehearsal hall
25,000 sq. ft production tower (I'm not sure what this is and did not see it..it was dark afterall!)
5,000 sq. ft. wardrobe and make-up area
Ample freight elevators
VIP lounge and catering kitchen
Gated entrance for security
20′ ceilings and 6″ reinforced concrete floors
Ample dock doors with levelers and seals
East Mountain Studios is located in Rockdale County at 2030 East Park Drive in Conyers. Any major actor/actress working on set here will have a hefty morning and afternoon ride to and from the most likely hotels they would use. (Many of them stay at the Renaissance Midtown Atlanta, Four Seasons Midtown Atlanta or the Ritz Carltons' located in Downtown and Buckhead.) The map below gives you an idea of the distance and ride to the studio. It's 30 miles, which may not sound far, but in Atlanta traffic, could mean an hour each way, depending on the time of day and the call times for the actors!!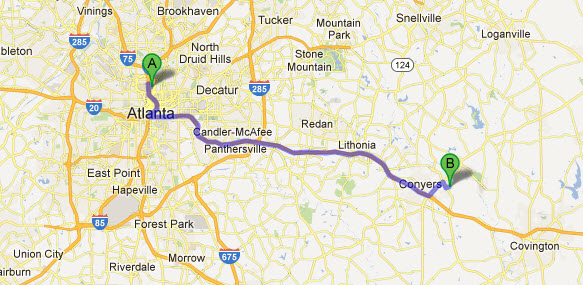 The Grand Opening was a bit lack-luster! It turns out the ribbon cutting was at 5pm, but the listed time for the reception was 6-8pm. I arrived at 6:40pm to find ALL the food stations empty and several of them already breaking down! I managed to grab a few cold pieces of Mellow Mushroom pizza (even cold, it was still good!) but there was not a drink in sight, be it water, wine or soda!
I'm not sure of makeup of the guest list as I did not see many of the movie/talent industry that I know.
Having a blockbuster like Fast and Furious 5 on their resume will hopefully help them land additional productions. At least then we know there will be craft services and catering to get something to eat. (It's a bit of a drive to the Golden Corral)