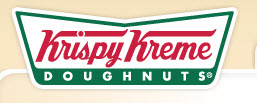 National Doughnut Day is Friday, June 1! Yippie! Head to the Krispy Kreme  in Midtown Atlanta at 295 Ponce De Leon Avenue and get your Krispy on! 
Celebrate a donut of a day by commemorating National Doughnut Day with a one-of-a-kind complimentary treat from Krispy Kreme®. On Friday, June 1 stop in to any Krispy Kreme US and Canada locations for a FREE doughnut of any variety. No purchase necessary.
National Doughnut Day was established in 1938 by The Salvation Army to raise funds for people in need during the depression, and is observed every year on the first Friday in June.
On Friday, June 1, Krispy Kreme is helping its fans across the country pay homage on this delectable holiday by offering every guest one FREE doughnut of any variety at Krispy Kreme US locations.
Fans can also share the joy of National Doughnut Day with Krispy Kreme on Twitter @KrispyKreme #DoughnutDay.
The offer is good for one free doughnut of any variety per customer on Friday, June 1 only. Visit KrispyKreme.com for store locations.  
Krispy Kreme is an international retailer of premium-quality sweet treats, including its signature Original Glazed(R) doughnut. Headquartered in Winston-Salem, N.C., the Company has offered the highest-quality doughnuts and great-tasting coffee since it was founded in 1937. Krispy Kreme is proud of its Fundraising program, which for decades has helped non-profit organizations raise millions of dollars in needed funds. Today, Krispy Kreme can be found in approximately 690 locations around the world and approximately 10,000 grocery, convenience and mass merchant stores in the U.S. Krispy Kreme Doughnuts, Inc. (NYSE: KKD) is listed on the New York Stock Exchange. Visit us at www.KrispyKreme.com.