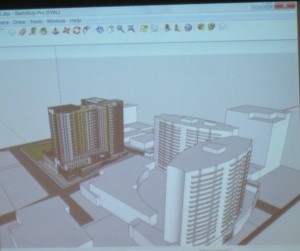 Last night, I attended the Design Review Committee (DRC) Meeting of the Midtown Alliance. This is one of the many steps developers go through as they announce, develop, and seek community approval of new projects in the Midtown Atlanta area. Most of these projects fall into two areas that the Midtown Alliance "oversees" as part of the Midtown Improvement District.
These areas are closely watched and developed via the Midtown BluePrint and the Special Public Interest (SPI) Zoning Districts.
New Georgia Tech High Rise Housing on the Horizon!
A new housing opportunity will soon rise for students in Midtown Atlanta. First off, as a disclaimer, I did not detect that this is a project that is being built BY GATech, but by an independent contractor on land that is just North of Technology Square, on Spring Street. The location of the building is noted on the map below.
The 17 -story building will have 250+ units and house some 704 students. They will be mostly furnished student housing, although the presenters did not specify if the "units" will have full kitchens in them. (I suspect they will)
There will be some 11,800 sq. ft of retail space on the street levels of Spring, 8th and Peachtree Place. This was a very preliminary view of the plans, and I suspect from the discussions and suggestions from the DRC, we will see some changes in the final plans that will be presented next month.
NOTE: I apologize for the photos….they did not hand out plans to the audience, and they also collected them BACK from the Committee Members once the meeting was over!