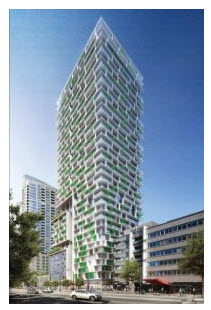 The interest for Midtown Atlanta certainly is not waning as numerous apartment developments are announced. Note….I said a-p-a-r-t-m-e-n-t-s….not condominiums. But at least it appears one developer has figured out that Midtown Atlanta needs an iconic building.
Integral Group, headed by Egbert Perry has presented a plan for a 35-story apartment tower on the corner of 6th and Peachtree Streets. The current vacant lot is surrounded by Viewpoint Midtown, 805 Peachtree and across the street, Cornerstone Village.  Perry is noted for his re-development of the Techwood Homes housing project into Centennial Place, a $153 million mixed-use development, and Centennial Park North, a $45 million townhome community. Both became a model for revitalizing public housing projects. Additionally, Integral Group is also working to acquire the former General Motors Plant in Doraville…some 130 acres located at I-285/ I-85 and adjacent to the Doraville MARTA station.
It's clear to the eye, that Atlanta in general has been the settlement of plain glass towers without much character. Sovereign Buckhead would be the one new building to have broken that trend in recent years. The "Iconic" (we'll call it that for now) would certainly be a stand out on the Midtown Mile and bring some much needed architectural character to the community.
Plans call for around 400 apartments and 25,000 sq. ft. of retail space. It will not be a value address when it comes to rental rates. Industry experts say the rates will push $2 per square foot, or more, such as the recent 77 12th apartments have done. 77 12th is part of the 12th and Midtown development that includes the Loews' Hotel and 1010 Midtown condominiums.
So, a 1 bedroom at 800 sq. ft. would be $1600 per month. If floor plans offer a 1,400 sq. ft. 2-bedroom home, rent would be in the $2,800 range.  To those living in Midtown and paying $1000-1300 for a one-bedroom would be wise to sign multi-year leases if they knew they were going to be staying in Midtown. It's not getting any cheaper to rent!
From the Buyer's perspective, it is anyone's guess if such a building would be built and converted to condominiums instead of apartments, or they will open as apartments, and in a few years, convert to condominiums for purchase. Certainly right now, a new construction condo purchase in Midtown Atlanta is going to be reserved for those willing to pay $600,000 and beyond.
And here is a glimpse of the site where this building is proposed.