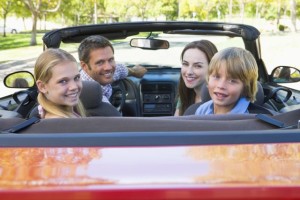 I always love doing these posts. There is so many unique October Festivals in Atlanta and around the North Georgia Mountains this time of year! Of course, the fall colors should be starting in the mountains (reminds me…time for a trip to Cherokee and the outlet malls of Gatlinburg…another great day trip) so all the more reason to venture out.
I'll make this easy and break the list up into Atlanta area event, and those that are more of a drive outside the city!
Please keep in mind, this is by no means all of them…and if you know of others, please post a link in the comments section below.
October Festivals in Atlanta
Enjoy the beautiful fall colors and cooler weather at Atlanta's favorite place to celebrate the fall season. Now in its 11th year, Stone Mountain Park's annual Pumpkin Festival has become a family favorite with kids and parents alike.
Take in all of the splendor that autumn provides with attractions, fun-filled games, shows and more. NEW for 2013, experience Spookley's A-MAZE-ING Adventure maze! Puzzles, passages, twists and turns will keep kids guessing until they reach the exit. Pumpkinpalooza takes the stage with an energy-filled game show where audience members are picked to participate in a series of zany and messy challenges. The winner takes all and the losers have to spin the "Wheel of Misery," with consequences ranging from a pie in the face, dancing like a chicken or getting "splurfed" (a gooey, slimy substance poured on top of your head). Get the entire family into the spirit with fall décor and special attractions, such as the Pie Eating Contest, Trick or Treat Scavenger Hunt, a costume dance party, crafts in the pumpkin patch and much more!
Inspired by open streets projects all over the world where neighborhood activists closed the streets to motorized vehicles and opened them to use any human powered means of transportation…walking, skating, biking. Atlanta Streets Alive aims for three objectives:
Celebrate the Neighborhood (which changes….September 8th was Peachtree Street)
Expose attendees to a variety of fun outdoor activities
Encourage more Georgia residents to take to the streets…minus the four wheels
October 6th's route included Highland/Monroe and Boulevard/Virginia Avenue.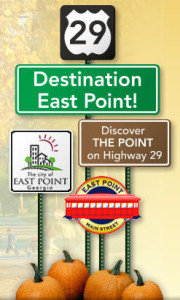 This year's festival will include interactive entertainment all day long, a Carnival with all your favorite midway attractions and a few of last year's favorite events.  Between our Exhibitors, Community Row, and Contests, there will be a little something for everyone. Out Contests this year include a Pie Baking competition and Chili Cook-Off – both featuring cash prizes. Of course we will also being doing the Chicken Strut again – so bring your prize-winning bird and crow about your blue ribbon! Come visit us on the Commons this October 12th and "Fall" in love with Downtown East Point.
A fun, folksy and fabulous show and sale of folk art, antiques, "Made in America" crafts, art, furniture, home decor and more. Meet the editors of Country Living Magazine, attend seminars and how-to's, artisan demonstrations, Harvest & Gourmet Market, and fall festivities.
Presented by County Living Magazine, the event  offers visitors the opportunity to fully experience the "Country Living" lifestyle. The event includes a special EARTH ANGELS Artisan Showcase – The Earth Angels will be "LIVE!" all weekend with demonstrations of pottery, painting, soft sculpture and more.
The event also features great shopping options.  More than 150 booths of antiques and hand-crafted goods PLUS a Gourmet Harvest Market AND the Country Living General Store. Featured vendors include the Earth Angels, Great Stuff By Paul, Findings @ Summerhouse, The Red Door Antiques, and many more favorites.
Mountain Members: Save $5 off tickets. To redeem this offer, click here to download coupon and bring with you to the festival entrance.
October Festivals Around Atlanta and North Georgia Mountains
Cotton Pickin' Fair — Highway 85 Fairgrounds — Gay — October 5-6
Return to 1910 where the Farmhouse, the Cotton Gin, and the Cotton Warehouse form a unique backdrop for a great day of 21st century fun.  Amidst skilled artisans and antique specialists, the Fair shares remnants of farm life in days gone by.  New talent keeps the  festival fresh and interesting while returning artists welcome loyal customers seeking to add to individual collections.
Buck's Corn Maze is more than just a maze!!! It's GREAT family fun for all ages. The 12 acre maze is planted in a 20 acre field next to Cochran Creek with a beautiful view of the Appalachian Mountains.
Come get "LOST" in the maze. As much fun as the maze is in the daytime, it is double the fun at night. Bring your Flashlight and test your skills in the dark. After completing the maze, go on a relaxing hayride which runs by the creek and through the cornfield.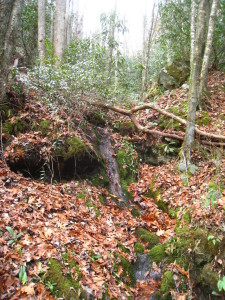 Come out for a great day of regional art and activities for the whole family.  Foxfire-Mountaineer Festival is just down the block so bring the whole family for a day of mountain heritage and a fantastic regional art.
The Foxfire Mountaineer Festival is a single-day celebration of the rich heritage of the Southern Appalachian mountains, featuring traditional music from numerous regional performers, showcases and demonstrations of time-honored handicrafts and trades from over 80 vendors, and all manner of mountain-flavored games and challenges for young and old alike.
Look forward to the 2013 Fall Festival. With its mild temperatures and beautiful scenery there is no better place to be than the North Georgia Mountains in the fall. Each October, the 9-day event features exciting musical performances, Arts & Craft vendors, educational demonstrations, a flower show and the ever-popular Georgia's Official State Fiddlers' Convention.
Arts & Crafts Daily
Gates: $11.00 Per Person (Includes Music Shows)
Children 9 and Under Free
FREE PARKING (Trolley Service Available Daily)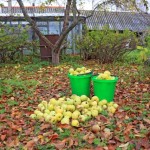 The Ellijay Lions Club, the Gilmer County Chamber of Commerce, the cities of Ellijay and East Ellijay, and Gilmer County invite everyone to come and enjoy the 42nd year of the Georgia Apple Festival. There are over 300 vendors with handmade, hand-crafted items, as well as many on-site demonstrations of how selected types of crafts are made. This year promises many new crafts as well as favorites from past festivals. There is a parade and antique car show each year. The antique car show is held at the Civic Center on October 12th. The parade is on October 19th and begins at 10 AM in historic downtown Ellijay.