Old Fourth Ward Arts Festival June 25-16, 2016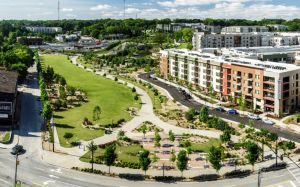 The Atlanta Foundation for the Public Spaces is proud to announce the 4th Annual Old Fourth Ward Arts Festival coming up June 25th and 26th in Atlanta, Georgia.
Named "Best New Event" by the Southeast Festivals and Events Association, this two-day arts festival has become the perfect celebration of the artistic innovation that the Old Fourth Ward Neighborhood embodies. Visitors will enjoy art from up to 150 local and regional artists carefully chosen to reflect this historic but progressive neighborhood.
Along with the fine arts and crafts there will be a children's play area, local food and beverage concessions and live acoustic entertainment. Best of all, it's entirely free! Historic Fourth Ward Park is just off North Avenue, across from the Ponce City Market. Grab your walking shoes, bike or rollerblades and take the Atlanta BeltLine Eastside Trail to the park! Cyclists can also store their bikes in the additional bike racks provided by the festival.
Of course, the all new and great Ponce City Market is located adjacent to the Old Fourth Ward Park and is a great place for additional dining options, as well as shopping. 
For more information about the festival, please visit oldfourthwardartsfestival.com.