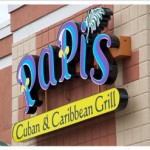 If you have never had Cuban food, you don't know what you are missing. If you've had Cuban food, you love, crave it, and want to know where the best of it can be found. Atlanta has a true touch of Cuba and Cuban cooking in Papi's Cuban Grill in Midtown Atlanta!
From the black beans and rice, tostones (fried green plantains), maduros (ripe plantains) to their steak and onions or roasted pork, everything here is as authentic as being in Miami…or…Cuba.
And if you happen to be a 'burbinite, you are in luck… you can try Papi's Stockbridge at  1375 Rock Quarry Rd., Stockbridge, Georgia and  Papi's Kennesaw at  745 Chastain Rd.
While I have someone in my house that is Cuban and makes some pretty wicked black beans, when I want to have authentic Cuban cuisine, I head to Papi's Cuban Grill in Midtown Atlanta….located at the corner of Myrtle Street and Ponce de Leon Avenue.