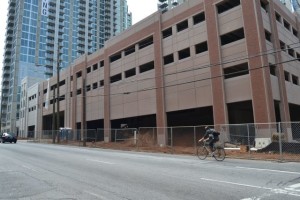 As a real estate agent, I'm expected to know a lot.
After all, you've decided to come to me to help you with one of your biggest financial investments…buying a Midtown Atlanta condo. And  one of the questions often centers around parking spaces. Parking Spaces in Midtown Atlanta Condos…Do They Really Matter?
Yes.
When purchasing a Midtown Atlanta condominium, the "standard" is one parking space per bedroom. The parking space does not belong to the condominium unit itself, but is a limited common element of the entire building, and is assigned to your specific unit. But there are exceptions to this rule, and the "standard" may not apply.
The biggest challenge falls when you purchase a two-bedroom condominium, and it only has ONE ASSIGNED parking space. This brings up that phrase from the Apollo movie, "Houston, we have a problem." Now you, the Buyer might say, "It's ok, I only have one car." Well, that may be fine for you, but as your Buyer's Agent I'm going to be talking to you about RESALE!!!! One parking space may not be a problem for you, but when you go to sell, and that next Buyer is looking for a two-bedroom with 2 parking spaces, your home just became more difficult to sell.
I dislike the overused phrase, "trust me" but in this case, trust me.
Case in point. I just lost a rental listing I had in a Midtown high rise building. Really a beautiful home…all new hardwoods, bathrooms and kitchen all remodeled…beautiful. 2 bedrooms and 2 baths. It was on the second floor, which I'm sure was a deterrent (that's another subject) but….you guessed it…..ONE PARKING SPACE. I can't tell you how many times I showed that condo, and got asked, "But we have two cars, where do we park the second car?"
 Parking Spaces in Midtown Atlanta Condos | Do They Really Matter?
YES!