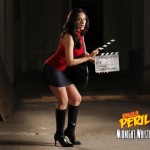 As many of you know, movies are being filmed in Atlanta every single day. In fact, every major studio FROM Hollywood is IN Atlanta filming one movie or another. It's almost dizzying to try and keep up with the schedule.
So, yours truly had an opportunity and had to jump for it. Mind you, this is coming from a local production company
You can visit the website for Paula Peril: Midnight Whistle and see me in one of the production photos.
And if you look really close in the trailer…you'll see me as a reporter asking questions.
Hello Hollywood? I'm Ready for my close up!